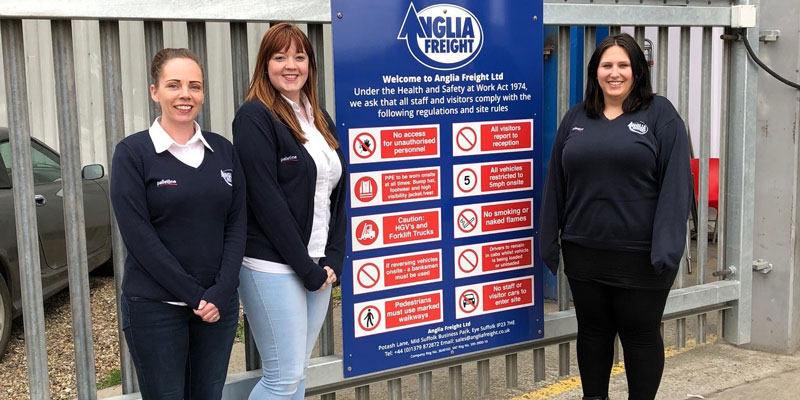 In January's blog, we touched on some of the challenges that were facing both Anglia Freight and the logistics industry. One of these is around recruiting staff with the right skills and helping them progress their careers for the future. To address this, we've been doing our bit to help educate young people about the world of logistics. How did we do this? That's easy! We sent Commercial Director, Ben Moulton and Business Support Manager, Gina Helm back to school!
Ben & Gina at Careers Week
Gina's children attend Debenham High School and we found out they were running a Careers Week in February. Kevin Voller from the careers team invited us to talk to pupils about the benefits of having a career in logistics, highlighting the types of jobs that are available along with some surprising facts and figures. With prospects for all, we were keen to show there is more to haulage than just trucks and drivers!
UK haulage industry – Did you know?
• The UK haulage industry is worth £74 billion
• It is the UK's fifth largest industry
• It has 498,000 trucks
• It employs 1.8 million people
• 600,000 of those are HGV drivers
• Trucks carry 85% of the UK's goods
• By 2022, the UK's logistics industry needs to recruit another 1.2 million people
New logistics blood needed
It is not surprising that 92% of the people who work in UK haulage are men, which means only 8% are women. Moreover, only 1% of the UK's 600,000 HGV drivers are under 25! We need to act now to address the skills shortage as well as the lack of females and young people in the industry. This is important as the lack of skilled workers directly impacts our business now and in the future.
I'm leaving school this year…how do I start a career in logistics?
There are many ways you can start your logistics career such as:
• Government Trailblazer Apprentice Scheme. This is a new scheme with guaranteed training, assessments and certified qualifications as well as a proper job.
• Internships
• Graduate Schemes
• University Degree Courses
• School Advisors
• Speak to Ben or Gina at Anglia Freight on 01379 872872
What great feedback!
'Both Gina and I were very impressed with all those who attended both in their behaviour and the way they engaged with the discussion. Their questions were considered and articulated in a way that many adults would be pleased with. All of the pupils were a credit to themselves, their teachers and the school and we would be delighted to attend the same week next year and any other career-based activities the High School run.' – Ben Moulton
'Many thanks for coming to school and helping to make careers week a success. I very much enjoyed your presentation and it helps me to gain a better understanding of this sector. One of the boys who attended tells me that he wants to work in haulage and I'm sure that it opened the eyes of other students to the potential opportunities that are available. I'm sure that I will get back in touch with you as we run an enterprise day in the summer term that involves working out costs etc for transporting goods to France. We have business mentors come in for the day, so somebody with knowledge of logistics would be very useful. I will pass the message onto the students.' – Kevin Voller
What's next?
Anglia Freight is looking to get involved with future activities not only with Debenham High School but with other schools too. If you'd like Gina and Ben to come along and feature in your school's career activity, please call Anglia Freight on 01379 872872.