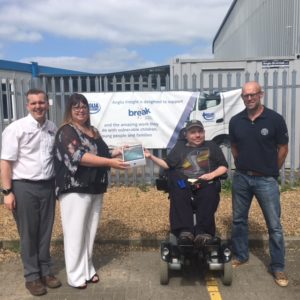 As a proud sponsor of GoGoHares 2018, we can't wait to see our hare on the GoGoHares sculpture trail which starts on June 24th. Before the launch, we decided to have some fun and ran a competition for one lucky person to win an IPad. All they had to do was find 25 images, corresponding to parts of our hare, hidden on our website and put them together to expose his identity. We used Twitter to promote the links where the images could be found, as well as revealing a bit about our hare in each tweet.
We have picked the lucky winner, but before we reveal all, here is the story of our hare.
Born in Jamaica with Norfolk ancestry
Our hare was born in Jamaica into a family of pirates. Although originally from the Caribbean, he had generations of family heralding from Norfolk. They were smugglers, plundering the coast and burying their treasure in barrels hidden in the marshes. In fact, our hare quickly became famous for stowing away in ships' cargo, setting traps and making the crew walk the plank before capturing the vessel.
Introducing the formidable … the invincible … Captain Jack Rabbit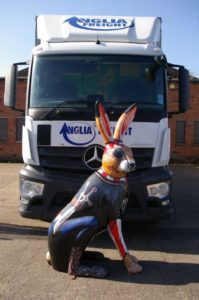 Captain Jack Rabbit is his name and he's a very cool character indeed. He's cheeky and fearless with a thirst for 'hare-raising' adventures, but at the same time, is rather distinguished and well known for his excellent manners. With an fl-hare for fashion, Captain Jack loves polka dots and stripes, but he is most famous for the patch over his right eye.
Some say he has a treasure map written on parchment hidden under his eye patch, but no one has ever been brave enough to take a look. He even sleeps with his other eye open, so that he can keep an eye on you! If he likes you, he'll wink with his left eye and twitch his nose! If he doesn't, he'll stare deep into your soul and you will shudder!
How did our hare get his eye patch I hear you ask? He fought his mad Irish cousin, Jack O'Hare in a fierce battle to seize his ships the 'Black Paw' and the 'Golden Carrot'. He won the battle and the vessels became his. On capturing the 'Black Paw', our hero removed the traditional skull and crossbones pirate flag and replaced it with a sinister black paw which has become our Captain's feared trademark ever since.
Trinkets, jewels and 18 'carrot' gold treasure
'Hare today, gone tomorrow' is our Captain's mantra. He's a very happy hare – in fact, some say he's a true 'hop-timist', living to plunder ships, stealing gold and jewels, whatever the weather! Fast on his feet; he can leap more than ten feet in the air which is perfect for jumping up into the rigging when in battle.
His famous battle cry of 'Hop to it' is legendary. It can be heard echoing for over 100 miles when the moon is full and when the mist rolls in from the East. Known for his love of coins made from 18 'carrot' gold, Captain Jack Rabbit is one of the wealthiest pirates in the land. Could some of the treasure be buried in Norfolk?
His most valuable haul of treasure? That's easy; his loot of sapphires and black pearls from his arch-enemy, 'Black John' Jack Rabbit. Some say the jewels are hidden in Norfolk and that he's back to claim what is rightfully his. Strangely enough, he only plunders ships when 'Lepus' or the 'Hare' constellation is seen at night in the southern hemisphere. A true sea robber at heart, he waits until he sees the brightest star before he attacks!
All pirates have a day off!
After an exhausting day plundering the high seas, Captain Jack Rabbit reclines in his straw bunk with a selection of carrot sticks for some well-earned rest and relaxation. With over 25 different varieties of carrot, 'Nelson' is his favourite as it reminds him of his much-loved sea fairing hero. He also loves music, tuning in to 'The Bonny Black Hare' by Steeleye Span in the crow's nest. For a bit of fun, our Captain loves playing hopscotch and battleships! His favourite dance style? Hip-hop, of course, and his favourite film is 'My F-Hare Lady.'
How did Captain Jack Rabbit arrive in Norfolk?
Some say that he hopped onto a British 'Hare-ways' flight and upon arriving in the UK, stowed away in one of our Anglia Freight lorries. So far, he's been seen heading for Hare Clump in North Norfolk, seeking long-lost relatives and digging in Hare Wood near King's Lynn, looking for 'Black John' Jack Rabbits lost gold. Rumour has it, he's already sniffed out his next 'hare' raising adventure and vows to plunder the countryside, so watch out! He even has his own map to navigate the Norfolk waterways.
Our iPad winner
We hope you enjoyed the tale of Captain Jack Rabbit – we had great fun writing it! Thank you to everyone who followed our clues on Twitter and entered our competition.
We're delighted to announce that the lucky winner of our iPad is Sam Fairman from Peterborough. Sam loves puzzles and it was his wife who spotted this one. However, unlike Sam, she prefers competitions, so asked Sam to do it instead. He said it wasn't the easiest competition he's entered as it took him a while to get all the pictures together and he was not expecting to win!
Asked how he felt about winning, Sam said, 'No way! I couldn't believe it! But I'm thrilled. I went along to Anglia Freight, last Tuesday, 5th June to receive my prize. I want to thank Anglia Freight for running the competition and honouring the prize. They are a lovely team, very hospitable and made me feel very welcome.' Sam added, 'Timing is perfect as I have an old tablet, but it's getting worn out now and running slow. And as it's an iPad Pro, I've bought an Apple pencil to do some drawing and writing on it. It'll get lots of use, so thank you Anglia Freight!'
GoGoHare Spotting yourself!
Keep a lookout for Captain Jack Rabbit as part of the GoGoHares trail. Take a photo of yourself with our hare and tweet it tagging @AngliaFreight #GGH18 #AngliaFreight.