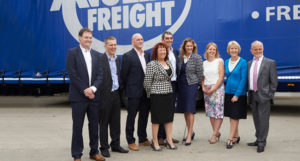 A privately owned, family business with a clear development strategy, Anglia Freight's future couldn't be brighter.
Founded over 20 years ago, we continue to build on our excellent reputation by carefully listening to our customers. This has resulted in Anglia Freight becoming a true agile logistics provider. We have invested in state of the art IT applications, refined our internal processes, developed some of the best staff training on offer and our asset management strategy is second to none. It is, therefore, no coincidence that we have one of the highest service levels in the industry.
All of this means that our customers can enjoy peace of mind, knowing they are partnered with a company passionate about the art of logistics, providing tailor-made solutions that work for them.
Our Ethos
We are very proud of our enthusiastic, determined and dedicated workforce who hold true to our company values. Our customers trust us to deliver on time and in full, treating their consignments with the utmost care and attention as we would our own. If we can deliver outstanding personal service every time, adding value to your business, then nothing makes us happier.
Our Values
Peace of Mind – we operate openly with honesty and clarity, so there are no surprises.
Innovation – we continually challenge our systems and processes looking for innovative ways to provide the best solutions.
Loyalty – our unique relationships with our customers and employees are built on solid foundations for loyal, long-term partnerships.
Exceptional Service – our attention to detail ensures our outstanding service is constantly exceeding expectations.
Our History
Established in 1993, Anglia Freight Ltd has evolved to become a one-stop-shop for customers shipping freight across the globe. Located in Suffolk, conveniently close to the port of Felixstowe, we move freight via road, sea and air, tailoring our services to what our customers need. Our company has developed rapidly since it was founded and we are proud of these milestones in our history.
1993 – Anglia Freight founded by Geoff Moulton
1995 – Became shareholder member of the Palletline Network
1996 – Launched our Warehouse Division
1997 – Partnered with the Hazchem Network
2000 – Moved to larger premises in Eye, Suffolk
2000  – Launched our Driver Training Scheme
2001 – Launched our Warehousing Service
2001 – Expanded our Night Service
2004 – ISO 9000 Accreditation
2010 – 2nd generation of family Directors appointed
2012 – Launched our International Division
2013 – Happy 20th Birthday
2016 – Launch of new £500,000 Transit Hub facility
2016 – It's a record! Record volume of pallets moved in one night
2017 – Anglia Freight wins Prestigious Palletline Depot of the Year at Palletline's 25th Annual awards event
2018 – Happy 25th Birthday
2019 – Anglia Freight wins Palletline 'Top Liner' award for outstanding performance for 6 consecutive months
2020 – ISO 9000:2015 accreditation renewed