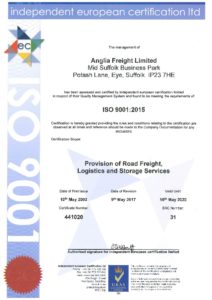 In May this year, Anglia Freight was found to meet the latest upgrade to the ISO 2015. This was assessed and certified by the Independent European Certification Limited in respect of our Quality Management System and found to be meeting the requirements of ISO 9001:2015.
ISO 9001:2015 is principally a worldwide recognised set of rules which companies implement with the aim of enhancing product or service quality within their organisation.
ISO 9001:2015 forms part of a family of ISO 9000 standards, documents and guidelines; there are currently over 20 documents in total, with new or revised documents being added all the time to inform and increase companies' understanding of requirements and continually improve their business models.
ISO 9001:2015 is predominately based on 3 key documents:
ISO 9000:2015 Quality Management Systems – Fundamentals and Vocabulary
ISO 9001:2015 Quality Management Systems – Requirements
ISO 19011:2011 Guidelines for Auditing Management Systems