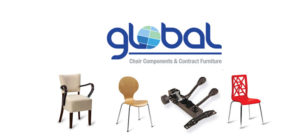 Global Chair Components Ltd is a major supplier of components to the office furniture industry. Established in 1996, the company supplies chair components for the office and contract markets, sourcing product from established international manufacturers.
The Problem
UK distribution takes place from Global Chair Components' purpose-built warehouses and distribution centre in Reydon, Suffolk.  In 2009, they launched a new leisure furniture range which included full and part loads as well as large volumes of palletised consignments shipped exclusively through the Palletline network.   Global Chair Components invested in additional high-quality warehousing and storage facilities at Reydon, but on occasions, they do need additional space, and Anglia Freight provides overspill storage where required.
Our Solution
Anglia Freight has been managing distribution solutions on behalf of Global Chair Components for ten years and today we are an integral part of their total distribution solution.  We operate a stand trailer at the Reydon distribution centre, collecting up to three trailer loads each day.  Anglia Freight delivers 40% of the total volume through the nationwide Palletline distribution network, providing a fast and cost-effective solution for smaller consignments destined for delivery locations nationwide.
"Although our products don't require special handling, they can be subject to damage in transit and therefore security and consistency of service is an important issue," stated Managing Director Darryl Dawson. "We only supply to trade customers, who require reliability of service to support their operations. Through Anglia Freight and Palletline, we can support our customer service with a distribution solution which matches our customers' needs."
"Our advanced computerised stock control systems complement Global Chair's own capabilities in this area," confirmed Geoff Moulton for Anglia Freight. "Additional services including digital signature capture and online POD management, where we fully integrate with the Palletline network, provide Global Chair Components with transparency and efficiency across the range of deliveries, from full loads to single pallet consignments."
For more information, please visit www.globalchair.co.uk