ETransport  Instructions:
Selecting Login on angliafreight.co.uk and then 'Distribution Login' will take you to the eTransport login page.

Enter your login details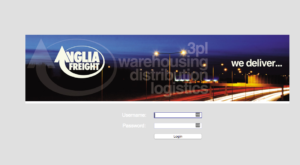 Creating a Job
Select 'create job'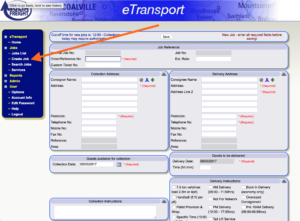 On this page, you can enter all your consignment details.
Avoid entering any symbols. For example: %, +, @.
The delivery date is driven by the service level. If freight is booked for a specific day, it will be charged at next day rate. Ensure all notes include the booked day/time.
Amazon details need to be entered in 'Amazon References'. Information required: PO number, FBA, ASN reference, No of Units and No of cartons.
If you have been provided with a quoted rate, please enter the cost in the 'Quote Ref' field.
If your consignment requires a purchase order number, please ensure this is entered in the customer order number at this stage as we cannot accept invoices being held up due to any failure to input at this stage.
If you require any added value services these can be selected in the delivery instructions.
Only tick one-time surcharge VU (Pre 10), AM, PM, or BD (Specific/Booked Time).
Ensure your collection and delivery instructions are clear.
Avoid entering AM/PM in the notes, please enter times in 24hrs format (0800hrs-1700hrs).
Leave the split drop down menu as original set and enter details into each row. E.g. (Split 1 – Full, Split 2 – Half and Split 3 – Quarter).
Hazardous Freight
When entering hazardous freight, please ensure all details are entered in the area below, this can be done by clicking on the little box on the right-hand side.

This will open an additional area where you can complete all the hazardous freight details (see below). Enter the additional details by entering but leaving the 'information only' box ticked and press save.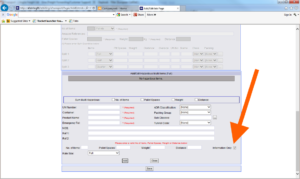 Saving Your Consignment Details
Please ensure that the items (pallets/parcels) and plt spaces are correct. Once the consignment details have been entered and checked, press SAVE. The job will then appear in the jobs list.
The status will remain as 'awaiting posting' until the consignment has been allocated a job number when imported into our transport system. The consignment will then be locked and you are no longer able to make any amendments online.
Customer Paperwork
If your consignment(s) require customer paperwork, please email a copy as a PDF to paperwork@angliafreight.co.uk. When emailing ensure that our job reference number is entered in the subject line (not the internet reference number). No hard copies will be accepted and if the customer paperwork is not received at the above email address, then our standard delivery paperwork will be used.
Reviewing Jobs
To review your jobs, select Jobs List. If you require any amendment to your consignment once the job has been locked (see below), please email traffic@angliafreight.co.uk with clear instructions quoting our job reference number (not the internet reference number). Please ensure you receive a confirmation that your request has been actioned.

Viewing PODs and Job Status
You can view the job status or retrieve your POD once the job has been completed. The POD is available in the jobs list. If you cannot find any PODS, please check if you have the 'View PODS' selected. This can be done by clicking on column select.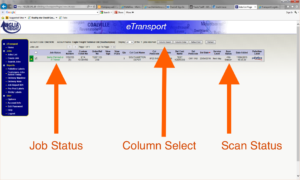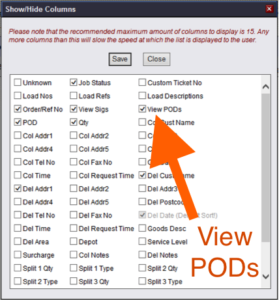 If the POD has not been uploaded within 24hrs of delivery, please email pods@angliafreight.co.uk with our job number. We are unable to search by the internet number as this is a transaction reference only.
Printing a Consignment Label(s)
To print a consignment label within eTransport, log in and go to your jobs list.
(This needs to be done once the job had been uploaded to our transport system and assigned a job number. The system uploads approximately every five minutes).
Select the jobs you would like the labels for by ticking the box (multiples can be selected):

Once all jobs have been selected, click on 'Reports and then Sticky Labels then print: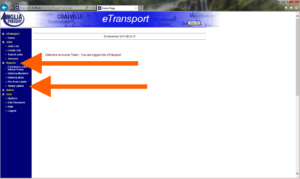 Example of a Printed Label
If you should have any queries or require any assistance, please do not hesitate to get in contact. We are more than happy to help. You can telephone the Business Support Team on 01379-872897 or email support@angliafreight.co.uk.